WELCOME TO THIS YEAR'S RUNNING FESTIVAL, SATURDAY 9 OCTOBER
On Saturday 9 October, it's time for the 42nd ASICS Stockholm Marathon. The first start groups set off at 11:00, the second groups at 11:10. Below you'll find all the information you need for the race.
We are delighted that the restriction for the maximum number of participants allowed at public gatherings will be lifted on 29 September.  Now we can plan properly to organise ASICS Stockholm Marathon according to our original plans and we will do this in a responsible way to ensure an even flow of runners and avoid congestion.
Think about – Reducing the risk of infection
Help us to organise an event, free from infection by:
Keeping your distance
Washing your hands and using hand sanitizer
Stay at home if you have symptoms of covid 19
Listening to and following the instructions of officials and announcers
Race registration
You will receive your digital race registration, which indicates your start number, in the middle of September. You can also find your start number in ASICS Stockholm Marathon start list.
Live results during the race
This year we do not have an app for live results, but your friends and family will be able to follow your intermediate times during the race via the results list published here on the website under the heading "Results 2021" in the top menu. The link will be available from Friday October 8, the day before the race.
EXPO AT WESTFIELD MALL OF SCANDINAVIA
You'll experience a fantastic atmosphere when you collect your goodie bag and number bib at ASICS Stockholm Marathon Expo. Everyone is welcome, bring your friends and colleagues and visit us!
Take with you your race registration, printed out or in digital format, when you collect your number bib. If you are collecting a friend's bib you must have their race registration, either printed or in digital format. Set aside a little extra time for the Expo so that you can make the most of the special offers from our partners.
Offer! ZETA product bag
This year we won't arrange the traditional pasta party at Stockholm Stadion, but the first 500 visitors (each day) to come to the Expo to collect their number bib on Monday, Tuesday and Wednesday will be rewarded with a bag of ZETA products. Carbo-load with a good pasta the day before the race, recipe also included in the bag.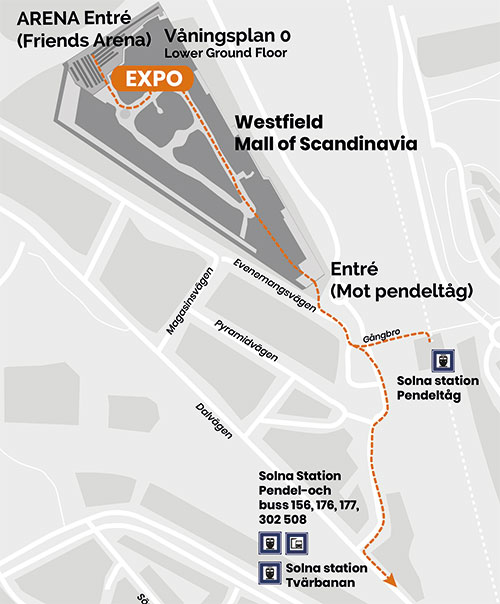 Directions
– Tvärbanan (train): Solna station: 22A.
– Pendeltåg (train): Solna station: J36, J38. For more information visit sl.se.  
There are two entrances: One when you come from the train and one entrance next to Friends Arena. Both entrances are located on the first floor – take the stairs down to floor 0 and you'll find the expo close to the store Cervera (between the fountains and Åhléns).
Opening times:
Monday 4 October:  12:00-21:00
Tuesday 5 – Friday 8 October:  10:00-21:00
Place: Mall of Scandinavia, Solna
Number bibs can only be collected at these times. If any of the personal information on the digital race registration is incorrect, please email the correct information to [email protected]
Experience the Expo!
At our Expo, you can get in the mood and recharge before the race together with our partners and sponsors who are ready to give you valuable tips. You can meet these exhibitors during the expo week: ASICS, Picadeli, Enervit, Zeta, Flowlife, Nutrinovate – Medistus, Fysioline – Ice Power, Värska, STC, Hand in Hand, Springtime, Runner's World and Garmin (who stand together with our pacemakers).
ASICS will this year invite you to their experience, "Uplifting Minds", where they offer shoe tests on treadmills. They help you buy your favourite model in the webshop and the shoes are then sent to your home. There are no clothes or shoes for direct sale in the store, but you can order in their webshop or go to one of the stores inside Westfield Mall of Scandinavia if you need something for the race.
Last minute entries
If you have not yet entered the race, you can still do so online until September 29 and at the Expo from Monday 4 to Friday 8 October. It's not possible to register at the start on the day of the race.
Goodie bag/kit bag
At the number bib distribution, you will also receive a plastic kit bag and a self-adhesive label with your start number which can be used if you want to hand in a change of clothes or your valuables at Östermalms IP. The bag also contains products from ASICS Stockholm Marathon's partners.
Please note that number bibs:
Are personal and may not be used by another runner.
Must be clearly visible on your chest during the race.
Have a reverse side which you should use to fill in the name and telephone number of a relative or friend who we can contact if anything happens to you. Indicate also if you take any medication or have a medical condition. This will help our medical team in case of emergency.
There will be a lot of people at the Expo after 16:00 on Thursday and Friday. We recommend that, if possible, you come earlier in the week. If you can't come to collect your number bib, you can send your race registration to a friend who can collect the number on your behalf.
Competition rules
ASICS Stockholm Marathon includes the following age categories for men and women: Seniors (born 1982–2003), 40 plus (born 1977–81), 45 plus (born 1972–76), 50 plus (born 1967–71), 55 plus (born 1962–66), 60 plus (born 1957 – 61), 65 plus (born 1952-1956), 70 plus (1947-1951), 75 plus (1942-1946), 80 plus (1941 or earlier).
Minimum age to run ASICS Stockholm Marathon is 18 years (born 2003 or earlier).
Participation on or with any device on wheels is not permitted in ASICS Stockholm Marathon (with the exception of authorised wheelchairs which are registered in the wheelchair category).  This includes, for example, hand cycles, cycles, strollers, baby joggers, joelettes, roller skates, roller skis, inline skates and skateboards.  Competition management may, however, grant permission for certain equipment, in special cases.
The ASICS Stockholm Marathon is conducted in accordance with the rules laid down by the Swedish Athletic Federation and by World Athletics.
Race shoes
Runners who race in shoes that do not meet World Athletics' requirements risk being deleted from the results list afterwards. The World Athletics list of approved road shoes can be found HERE (updated September 10, 2021).
EVENT AREA
Directions – using public transport
Underground and bus are the easiest and most environmentally friendly ways to travel to the start of the race on Lidingövägen.
To get to the start, the easiest way is to take the underground's red line 14 towards Mörby Centrum and get off at Stadion (approx. 400 m walk). SL have a travel planner in English on their app or on their website sl.se
Leave your car at home or park in one of Stockholm's 'infartsparkeringar' (the equivalent of Park and Ride). You can download a parking permit, which is valid as a parking ticket for 9-10 October 2021 for the 'infartsparkeringar' listed on the permit. Download the permit here (pdf).
Only participants at Östermalms IP
Only participating runners will be admitted to the event area at Östermalms IP, in order to ensure the possibility to keep a distance. This also applies after the finish. We recommend that you decide in advance another gathering place with your friends and family (Östermalms IP is usually the gathering point after the race). Audiences are welcome to the Olympic Stadium during the event.
Clothing drop-off at Östermalms IP
By using the plastic kit bag with the self-adhesive label which you get when you collect your number, you can hand in your change of clothes before the start. After the race you collect them from the same place by showing your number bib.
Note! Due to previous restrictions, we have no separate drop-off for valuables this year. Avoid bringing valuables to the event. Everything you want to leave during the race itself, you put in the kit bag at the clothing drop-off.
Changing Rooms
Seeded elite runners with start numbers 1-200 (men and women) can use the changing rooms at the Olympic Stadium. Runners with start numbers 201-4000 can use changing rooms at GIH (Idrottshögskolan), behind the Stadium. All other runners with start numbers 4001-18000, can use changing rooms/tents at Östermalms IP. All changing rooms are open from 8:00 to 18.00 on 9 October. Do not leave any belongings in the changing rooms,  use the clothing drop-off service at Östermalms IP.
Assembly before the start
Seeded elite runners 1-200 assemble at the Stadium. Other runners, with start numbers 201-18000 assemble at Östermalms IP from 09:00. All routes to the start pens go from Östermalms IP and each start group has its own start pen on Lidingövägen.
The start pens on Lidingövägen will open at 10:00. Start numbers 201-10000 must be in their start pens by 10:45 at the latest and start numbers 10001-18000 by 10:55 at the latest.
There are three exits from Östermalms IP to the start. Each exit is clearly marked with the start numbers of the groups which use the respective exit. Runners with start numbers 201-4000 have one exit, start numbers 4001-10000 have the second exit and start numbers 10001-18000 the third exit.
All runners must be in their start pens at the latest 15 minutes before their respective start times.
At the various start pens, there are water stations on the pavement on the right (Östermalms IP side), and toilets on the left of Lidingövägen.
START
The race starts in two groups, at 11:00 and 11:10, from Lidingövägen, outside Östermalms IP sports ground. 
Start group 1 – 11:00
Seeded elite runners, start numbers 1–200
Start numbers 201–2000
Start numbers 2001-4000 (wheelchair athletes to the left in this group)
Start numbers 4001-6000
Start numbers 6001-8000
Start numbers 8001-10000
Start group 2 – 11:10
Start numbers 10001-12000
Start numbers 12001-14000
Start numbers 14001-16000
Start numbers 16001-18000
You can find your number in the race start list. Please note: The first kilometres are going to be congested so take it easy at the beginning.
COURSE
The course is 42,195 metres long, and has been measured in accordance with Swedish Athletics Federation and World Athletics rules. The measurement was carried out in August/September 2021 by Mikael Hill, international measurer for the Swedish Athletic Federation.
Each kilometre will be clearly indicated with a sign. 
Runners must follow instructions from the police and race officials along the course. For safety reasons, cyclists, roller blades and inline skating are absolutely forbidden on the course. Walking poles are not permitted.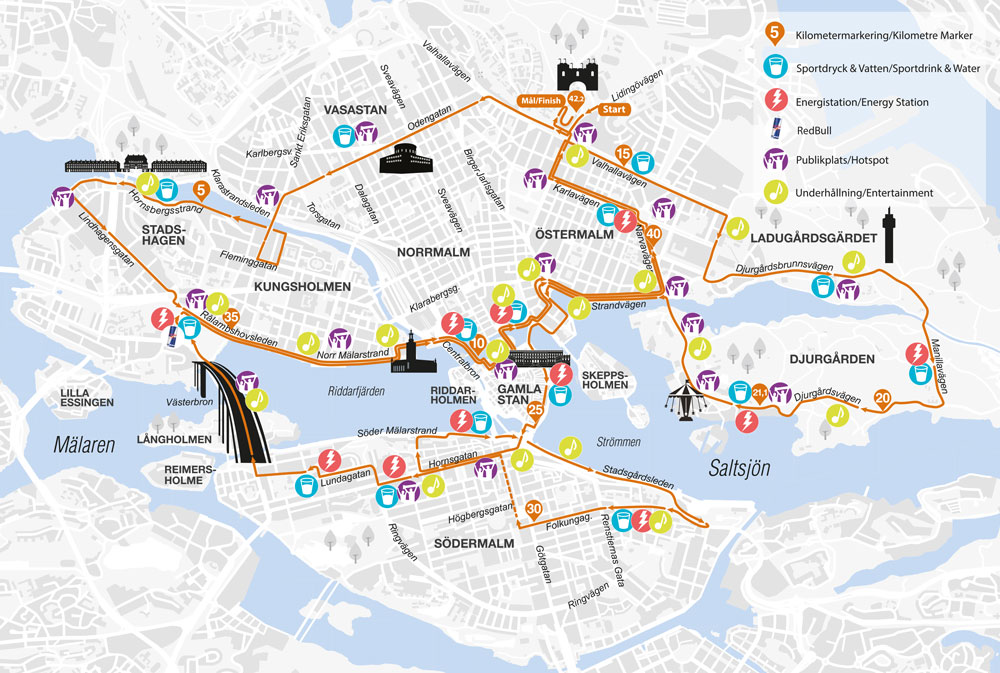 Intermediate times
Intermediate times are shown on digital clocks positioned on the left or the right hand side of the course at 5 km, 10 km, 15 km, 20 km, 21.1 km (halfway), 25 km, 30 km, 35 km and 40 km. Please note that the clocks start with Group 1, ie at 11:00 so if you start in Group 2 you will need to deduct 10 minutes from the time shown on the clocks.
At these points your individual intermediate times are recorded and will be shown in the results on the race website. Intermediate times are also shown on the diploma which you can download after the race.
Garmin pacemakers
Are you unsure about what pace you should run? If so, our Garmin pacemakers can help you keep to the right pace. Follow one of our experienced marathon runners who will run the race at an even tempo with finishing times from 3 hours to 5.45 hours.
The pacemakers run at a designated speed which give the following finish times, based on the "gross time" ie the time from the start gun for the respective start group to the finish line:
3.00: grey flag (start numbers 2001-4000)
3.15: orange flag (start numbers 4001-8000)
3.30: red flag (start numbers 4001-10000)
3.45: green flag (start numbers 6001-12000)
4.00: yellow flag (start numbers 6001-12000)
4.15: white flag (start numbers 8001-14000)
4.30: blue flag (start numbers 10001-18000)
4.45: pink flag (start numbers 10001-18000)
5.00: black flag (start numbers 12001-18000)
5.15: purple flag (start numbers 14001-18000)
5.30: brown flag (start numbers 16001-18000)
5.45: light green flag (start numbers 16001-18000)
The flag which is attached to the pacemaker's back shows which finish time they aim for. They also wear a bib which shows which start time they have. At the Garmin pacemakers stand at the ASICS Stockholm Marathon Expo you can pick up a pacing wristband with information which helps you keep to the km times. You can also meet some of our pacemakers and ask any questions you may have.
Maximum times and check points
In accordance with our permit from the police authorities, the maximum running time is 6 hours 30 minutes. Three check points along the course must be passed by a certain time to be allowed to continue the race:
21.1 km – Djurgårdsvägen – must be passed by 14:25.
27 km – Söder Mälarstrand – must be passed by 15:20.
32 km – Ringvägen – must be passed by 16:05.
The finish line in Stockholm Stadium will close at 17:40.
These checkpoints apply regardless of what time you crossed the start line.
Non finishers
If you need to drop out of the race, transport is provided from the nearest refreshment station. Runners who do not meet the check point times are also given a lift back to an area close to the Stadium/Östermalms IP.
WORLD CLASS SERVICE FOR RUNNERS
ASICS Stockholm Marathon provides a unique world class service for runners along the course.
Refreshment stations
There are a total of 17 refreshment stations. At the refreshment stations after 2.5 km (Karlbergsvägen), 17.3 km (Sjöhistoriska Muséet) and 31.3 km (Hornsgatan) water only will be provided. At all other refreshment stations sports drink will be provided. Enervit G Sport with orange sports drink will be provided on the first set of tables. On the second set of tables water will be served.  Read more about Enervit G Sport
The cups used at the refreshment station are 'Bioware' and will be collected after the race by Sortera, the sustainable waste disposal company. There are waste containers after each refreshment station. Please throw your cups into these containers.
Energy Stations
You will pass an energy station 13 times during the race. Here you'll find something to eat or drink, savoury or sweet, to help you on your way towards the finish.
9.6 km – Klara Mälarstrand – Coffee
10.9 km – Strömgatan – Bananas
19.1 km – Manilla Skolan – Bananas
21.4 km – Djurgårdsvägen/Skansen – Salted gherkins
24.44 km – Skeppsbron/Slottsbacken – Simply Cola
26.6 km – Söder Mälarstrand/Pustegränd – Enervit Gel
29.0 km – Folkungagatan – Bananas
31.6 km – Hornsgatan – Apple slices
32.5 km – Lundagatan/Kristinehofsgatan – Vegetable stock
34.5 km – Görwellsgatan/Rålambshovsleden – Red Bull
34.7 km – Rålambshovsleden – Bananas
36.9 km – Klara Mälarstrand – Simply Cola
38.2 km – Strömgatan – Bananas
Book your personal energy service
During ASICS Stockholm Marathon 2021, Enervit are offering a personal energy service with three energy stations, serving the popular Liquid and Carbo tablets. Included in the package are also pre- and post-race products in the form of Pre Sport and Recovery Drink.
Personal energy station 1 Stadshuset 9 km
Personal energy station 2 Manillavägen 19 km:
Personal energy station 3 Stadshuset 36.4 km:
You collect your energy package at the Enervit stand at the Expo in Westfield Mall of Scandinavia. Book your personal energy package here.
Encouragement and motivation along the course
Running a marathon is really an extraordinary achievement and so is the motivation provided by us – the organisers, and Stockholm public. We offer everything from DJ:s, live and brass bands and cheerleaders. 
Toilets
There are toilets at Östermalms IP, alongside the start pens on Lidingövägen and at each refreshment station on the course.
Medical service
ASICS Stockholm Marathon is the endurance test of the year, so be cautious at the start. 42,195 metres is a demanding distance and you need to conserve energy for the final part of the race.  Medical personnel will be in attendance at the start and finish areas and at each refreshment station. Medical personnel are authorised to take exhausted or injured runners off the course.
Take it easy! Don't start unless you are 100% healthy. Remember that there is no reason for embarrassment if you need to drop out if you are exhausted. If you are uncertain whether you should start or not, please talk to one of the representatives of our medical team who will be at the ASICS Stockholm Marathon Expo on Friday and in the medical tent at Östermalms IP on Saturday.
FINISH & FINISH SERVICE
Stockholm Olympic Stadium
Immediately after the finish in the Stadium, you will receive your well-deserved medal. And on the way out, just outside the Clock Tower, you will be given a bottle of water from our sponsor Värska.  All finishers can download a diploma from ASICS Stockholm Marathon website. Honorary prizes will be awarded in the Stadium after the race to the best male and female runners. Prizes will be sent after the race to the top 3 in each age group. 
Östermalms IP
After the finish you continue on to Östermalms IP (300 metres) where you receive your ASICS Stockholm Marathon 2021 finisher's t-shirt. There will also be a results service station where you can check your result.
When you have collected your t-shirt, you'll be offered water, soft drinks, snacks, coffee, buns, fruit, Red Bull and Enervit Recovery Bar so you can re-fuel properly. There will be plenty of time and space for recovery and post-race chat.
Foot treatment and massage
Axelsons Gymnastiska Institut provide a free foot treatment before and after the race and a massage service after the race at Östermalms IP.
RESULTS
Website
Intermediate times and the preliminary results can be found on www.stockholmmarathon.se. The official results will be published approximately a week after the race.
Virtual race
If you have entered the race but are not able to travel to Stockholm on 9 October, you will still be able to run wherever you happen to be.  Register your result using our app, whenever you want during 9 and 10 October. All you need to know about the app, click here. When you've completed the race we will send you a medal and finisher's t-shirt. However, please note that we are only able to send to addresses in Sweden.
ASICS Stockholm Marathon will be broadcast live on TV 4 between 11:00 and 14:30.
SORTERA – OUR RECYCLING PARTNER!
We are incredibly proud to work with our recycling partner, Sortera, who ensure that you throw and we sort.  You throw your waste in containers or bins, at the event area or along the course. And after the event, it's collected by Sortera who sort and treat it at their depot. Please look for Sortera's green bins when you dispose your waste. This will help us with our cleaning and recycling and you will be playing an important role in our sustainable work with Sortera.
INFORMATION
If you have any questions before ASICS Stockholm Marathon, please contact us by phone +46 8 545 664 40 or email [email protected].
The race is sanctioned by AIMS AIMS (Association of International Marathons and Road Races) and by Svenska Friidrottsförbundet (Swedish Athletics Federation).