ASICS STOCKHOLM MARATHON
NEW DATE 5 SEPTEMBER 2020
ASICS Stockholm Marathon postponed to 5 September 2020
Following some intensive weeks dealing with the current situation due to the Corona virus, we can today report that this year's ASICS Stockholm Marathon will be moved from 30 May to 5 September and will be staged on the same day as Ramboll Stockholm Half Marathon with Stockholm Olympic Stadium as a joint event area. At this difficult time, we are pleased that we are able to find a possibility to organise the 42nd ASICS Stockholm Marathon 2020 and we thank you for your patience in waiting for this decision. We promise to make 5 September an occasion to remember!
If you have entered this year's ASICS Stockholm Marathon, your start place will automatically be moved to 5 September. We understand, of course, that this new date will not suit all participants and, therefore, offer the opportunity to transfer start places to other runners. We will provide further information about name transfers in due course.
Marathongruppen engages over 200,000 runners in over 40 events every year in Sweden, many of which take place in the spring and early summer. It has been (and still is) a major challenge to identify how the situation will affect our organisation. We are doing everything in our power to survive this crisis so that we can continue to arrange mass races for many years to come. It has taken time to consider all the possible alternatives and we hope that the solution we now present for ASICS Stockholm Marathon is the best alternative for as many participants as possible.
We are a charitable sports organisation which transfers all surplus funds at the end of the year to other non-profit sports clubs to be used for children's and youth activities within sports. In total over one hundred sports clubs receive a large part of their annual income via our events. A sports movement which, before the outbreak of corona virus, was already underfunded and which now faces its greatest economic crisis due to cancelled and postponed events. At this time, therefore, we are unable to refund registration fees. For participants living outside Sweden, we are making an exception and offering the transfer of start places to the 2021 race, since there is still considerable uncertainty concerning international travel in the beginning of September. More information about this in due course.
Other races were also planned to take place during Marathon weekend – ASICS Stockholm High Five (29 May) as well as Stockholm Mini Marathon and Leo's Minsta Maran (31 May). These races are also postponed; ASICS Stockholm High Five has a new date – Friday 4 September. Stockholm Mini Marathon and Leo's Minsta Maran will also take place in the autumn and a date will be announced in due course.
ASICS Stockholm Marathon on 5 September will have the same start times as the original race, ie 12:00 and 12:10. Ramboll Stockholm Half Marathon will take place on the same day at 09:00. Challenges present opportunities and we are extremely excited about delivering a completely unique race day when two of Sweden's most famous mass races take place. It will be a running festival which Stockholm has never experienced before. More information about the new Marathon weekend will be published regularly in newsletters, at the website and our social media channels.
We are proud to have you as a participant in ASICS Stockholm Marathon 2020. Thank you for your support and understanding. We are also extremely grateful for the support we have received from our partners, suppliers and the authorities in our efforts to find a new date. See you on 5 September!
Best regards,
Daniel Almgren, CEO Marathongruppen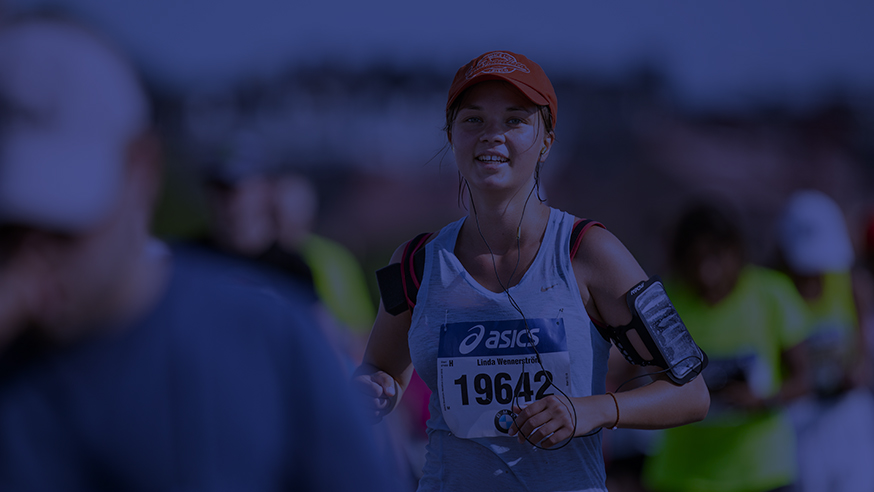 THE START
The race starts in two groups, at 12:00 and 12:10, from Lidingövägen, outside the Clock Tower of Stockholm Olympic Stadium.
MAXIMUM TIME 
In accordance with our permit from the police authorities, the maximum running time is 6.5 hours. We are also introducing paceholder groups, helping runners to finish the marathon through a customised runwalk plan. The runwalk paceholder groups will start in the last start corral, J. If you want to join them, don't mention any earlier results when you register and you'll automatically end up in the last start corral.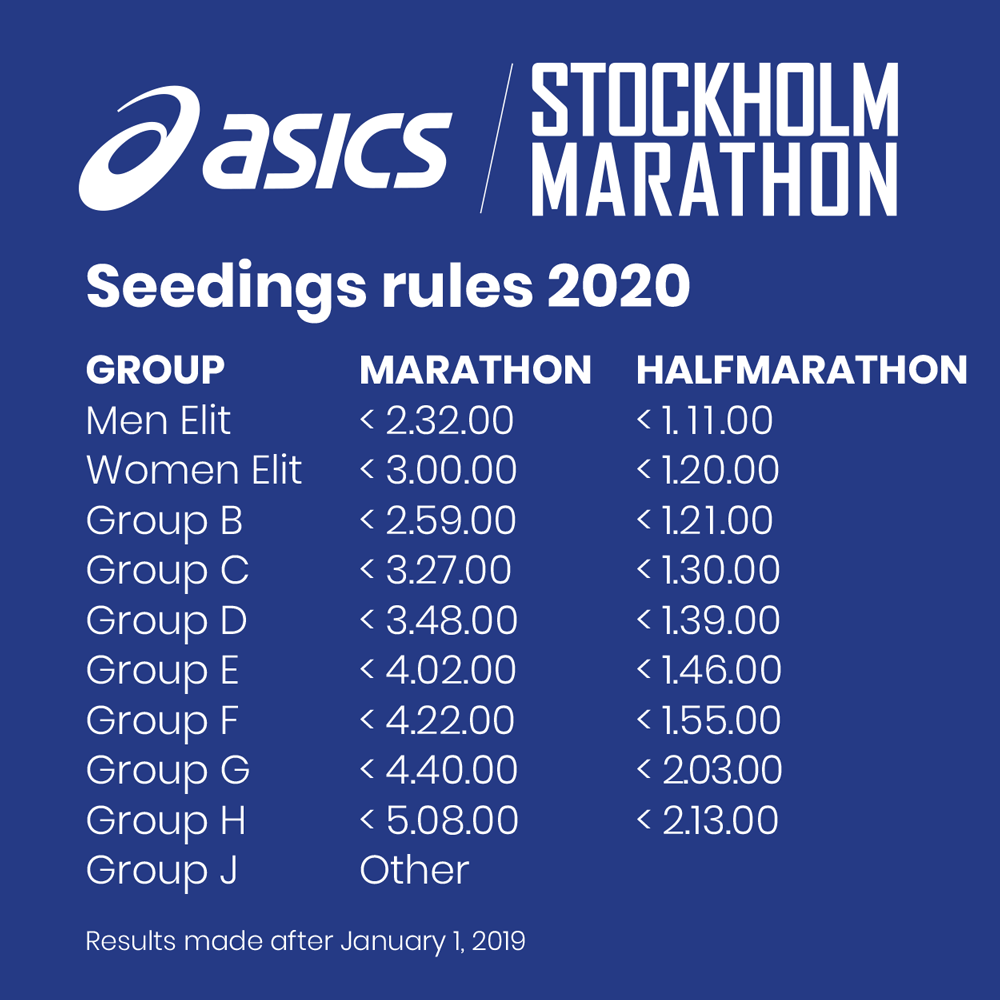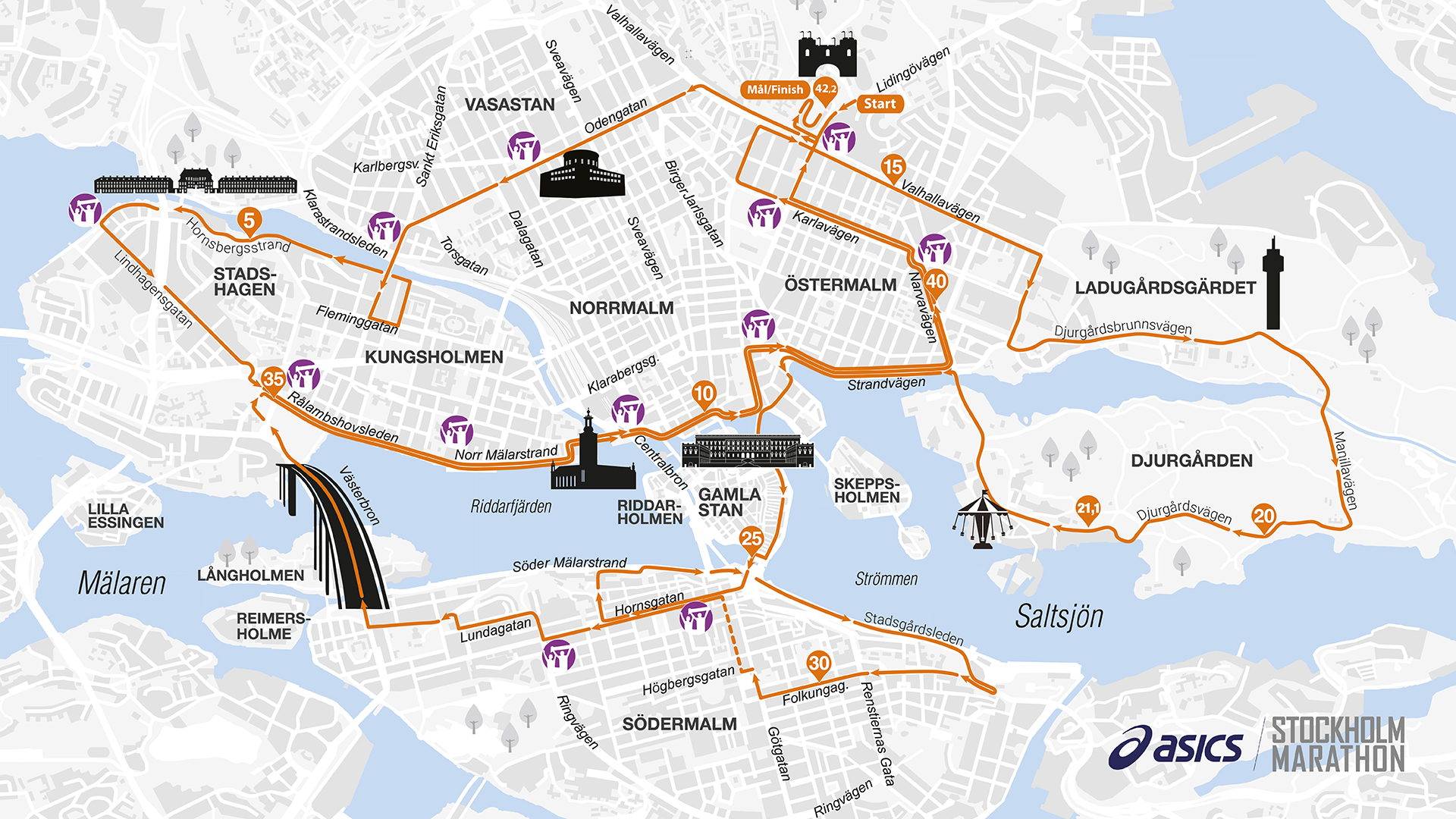 The course is 42,195 metres long, and has been measured in accordance with Swedish Athletics Federation and IAAF rules. The measurement was carried out on 25 April 2017 by Hugh Jones, AIMS course measurer from Great Britain and Mikael Hill from Stockholm. Each kilometre will be clearly indicated with a sign.
For a more detailed description of the course click here.
RULES
ASICS Stockholm Marathon includes the following age categories for men, women and people with other gender identity: Open (born 1981–2002), 40 plus (born 1976–80), 45 plus (born 1971–75), 50 plus (born 1966–70), 55 plus (born 1961–65), 60 plus (born 1956 – 60), 65 plus (born 1951-1955), 70 plus (1946-1950), 75 plus (1941-1945), 80 plus (1940 or earlier). Minimum age is 18 years (born 2002 or earlier).
Participation on or with any device on wheels is not permitted in ASICS Stockholm Marathon (with the exception of authorised wheelchairs which are registered in the wheelchair category).  This includes, for example, hand cycles, cycles, strollers, baby joggers, joelettes, roller skates, roller skis, inline skates and skateboards.
The ASICS Stockholm Marathon is conducted in accordance with the rules laid down by the Swedish Athletic Federation and by the IAAF (International Association of Athletics Federations).
CONTACT
If you have any questions before ASICS Stockholm Marathon, please contact us by phone +46 8 545 664 40 (weekdays 09:00-12:00 and 13:00-15:30) or email [email protected].