The adidas Stockholm Marathon takes you through the streets of a beautiful European capital built on 14 islands. The course of this race offers spectacular views of a unique city with varied scenery, including nature and an impeccably preserved medieval city centre. The enthusiastic crowds will cheer you along the route and lead you to an unforgettable finish at the 1912 Olympic Stadium, the home of 83 officially recognized world records in athletics. No other arena in the world comes close to that number and hopefully you can have your own record finishing the adidas Stockholm Marathon at this stadium.
THE START
The race starts in two groups, at 12:00 and 12:10, from Lidingövägen, outside the Clock Tower of Stockholm Olympic Stadium.
The course is 42,195 metres long, and has been measured in accordance with Swedish Athletics Federation and World Athletics rules. The measurement was carried out in August/September 2021 by Mikael Hill, international measurer for the Swedish Athletic Federation measurer. For a more detailed description of the course click here.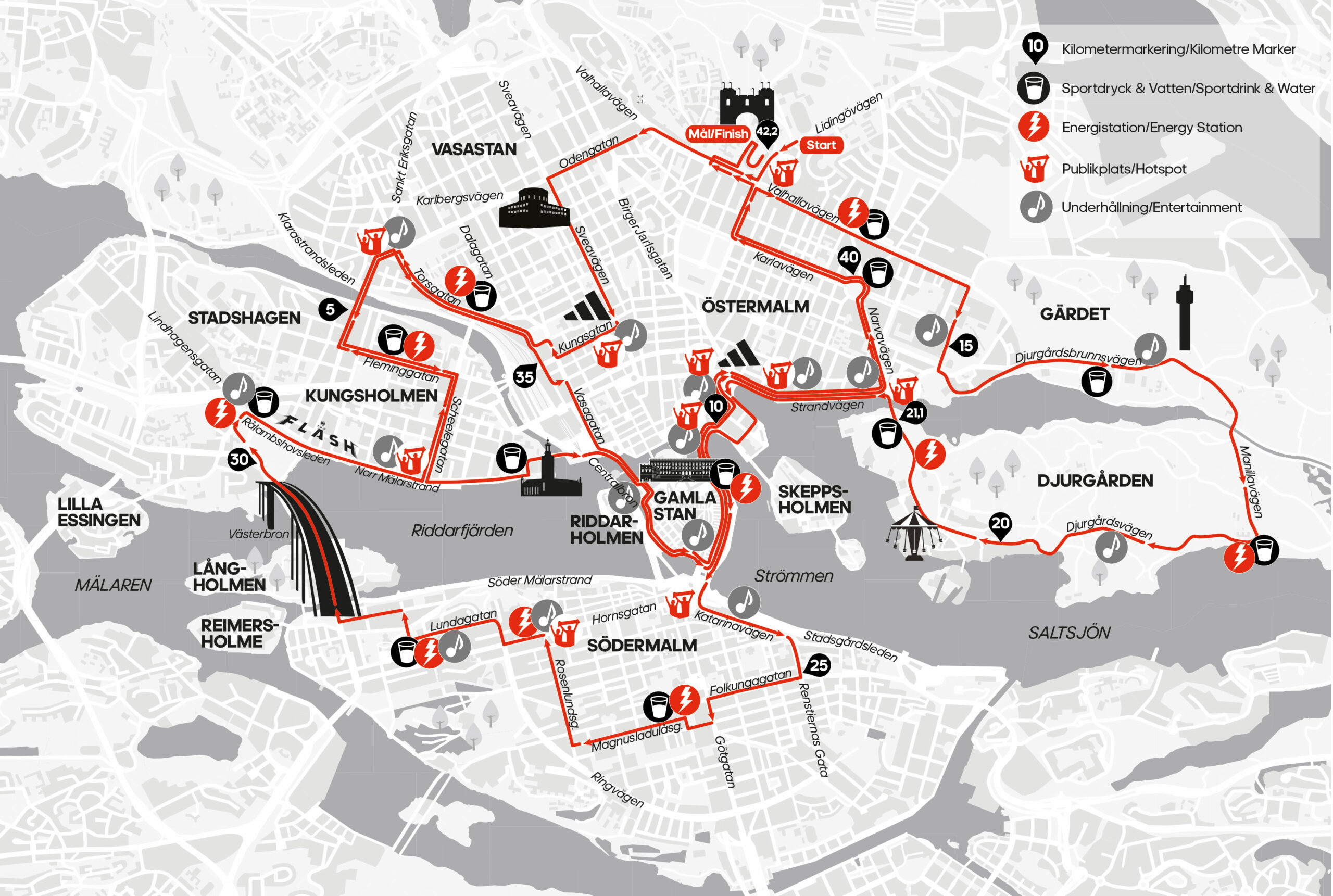 The course runs through all of Stockholm's seven districts. Östermalm, the exclusive part of town – this is where the race starts, and this is where you will finish, in Stockholm Olympic Stadium. Here you will also find the most expensive properties in the country. Vasastan, the chic and trendy district, with countless cozy little restaurants. Kungsholmen, the lively, intimate district, with a beach, boules and Rålambshovs Park – the City Hall is also here, topped with three golden crowns. Gamla stan, Stockholm's historical centre – with buildings dating back to the 13th century – home also to the Royal Palace. Djurgården, the lungs of the city which has both a zoo and a fairground. Södermalm, the beautiful, slightly bohemian, buzzing district, which the new course will cover more than before. Norrmalm, the district which is actually the centre of the city – with the central station, the popular city park of Kungsträdgården and famous Åhléns and NK department stores.
CONTACT
If you have any questions before adidas Stockholm Marathon, please contact us by phone: +46 8 545 664 40, or email: [email protected].