ASICS STOCKHOLM MARATHON
JUNE 5 2021
The ASICS Stockholm Marathon takes you through the streets of a beautiful European capital built on 14 islands. The course of this race offers spectacular views of a unique city with varied scenery, including nature and an impeccably preserved medieval city centre. The enthusiastic crowds will cheer you along the route and lead you to an unforgettable finish at the 1912 Olympic Stadium, the home of 83 officially recognized world records in athletics. No other arena in the world comes close to that number and hopefully you can have your own record finishing the ASICS Stockholm Marathon at this stadium.
THIS IS HOW WE WILL ORGANISE ASICS STOCKHOLM MARATHON 2021
How the corona virus will affect races scheduled for 2021 is still not known, but at Marathongruppen we're working hard to be able to stage safe and enjoyable events for you, our runners – despite the uncertainty we're still living and working under. The requirements for organising events during this pandemic are constantly changing. In early September when we opened registration, there were indications that restrictions were already easing and we were, therefore, confident that we could open a normal registration. Over the autumn we have invested a lot of time and energy in being able to present, as early as possible, the various scenarios for how the event is going to be arranged.
RESERVE DATE: 9 OCTOBER 2021
We aim to hold ASICS Stockholm Marathon on 5 June 2021, and our two main scenarios are based on that being possible. But we still don't know how the situation will be in the spring and autumn 2021 is already becoming filled with other events. Therefore, we've decided now to secure an alternative autumn date. The race has not been moved, but if we find ourselves in a situation where we must do so, then 9 October is our reserve date. By 31 March at the latest, we will announce if the race has to be moved to the autumn.
THE START
The race starts in two groups, at 12:00 and 12:10, from Lidingövägen, outside the Clock Tower of Stockholm Olympic Stadium.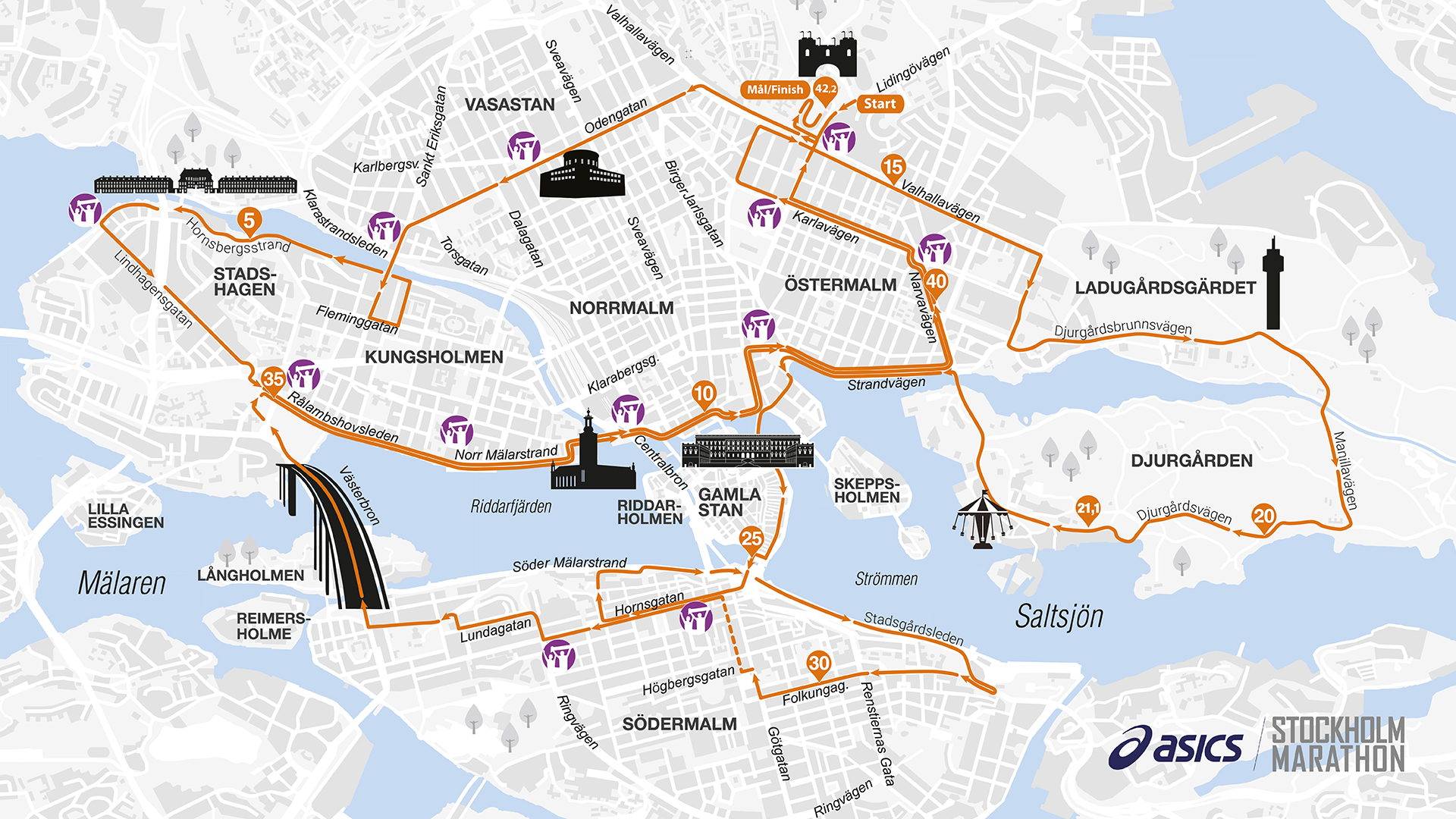 The course is 42,195 metres long, and has been measured in accordance with Swedish Athletics Federation and IAAF rules. The measurement was carried out on 25 April 2017 by Hugh Jones, AIMS course measurer from Great Britain and Mikael Hill from Stockholm. Each kilometre will be clearly indicated with a sign. For a more detailed description of the course click here.
CONTACT
If you have any questions before ASICS Stockholm Marathon, please contact us by phone: +46 8 545 664 40, or email: [email protected].