ASICS STOCKHOLM MARATHON
OCTOBER 9 2021
The ASICS Stockholm Marathon takes you through the streets of a beautiful European capital built on 14 islands. The course of this race offers spectacular views of a unique city with varied scenery, including nature and an impeccably preserved medieval city centre. The enthusiastic crowds will cheer you along the route and lead you to an unforgettable finish at the 1912 Olympic Stadium, the home of 83 officially recognized world records in athletics. No other arena in the world comes close to that number and hopefully you can have your own record finishing the ASICS Stockholm Marathon at this stadium.
ASICS STOCKHOLM MARATHON TO TAKE PLACE ON 9 OCTOBER 2021 – MOVED TO ALTERNATIVE DATE
In autumn 2020, when we opened the registration for this year's ASICS Stockholm Marathon, we strongly believed that it was going to be possible to hold the race on 5 June 2021. Then, just before the infection rates increased again, we also set an alternative date for autumn 2021, in case we needed to move the race.
Through scenario planning and lobbying we've been fighting to be able to organise ASICS Stockholm Marathon according to the original plan but we've now reached a point where we've had to make the decision to move the race to our alternative date – 9 October 2021. For those of you who are already registered for ASICS Stockholm Marathon 2021, your start place will automatically be transferred to the new race date.
Thank you – and see you on 9 October!
We are looking forward, more than ever, to a time when the infection rates have reduced and to seeing you again, together with the rest of our running community. We are proud to have you as a participant in ASICS Stockholm Marathon 2021. Thank you for your understanding and take care. See you on the start line on 9 October!
THE START
The race starts in two groups, at 12:00 and 12:10, from Lidingövägen, outside the Clock Tower of Stockholm Olympic Stadium.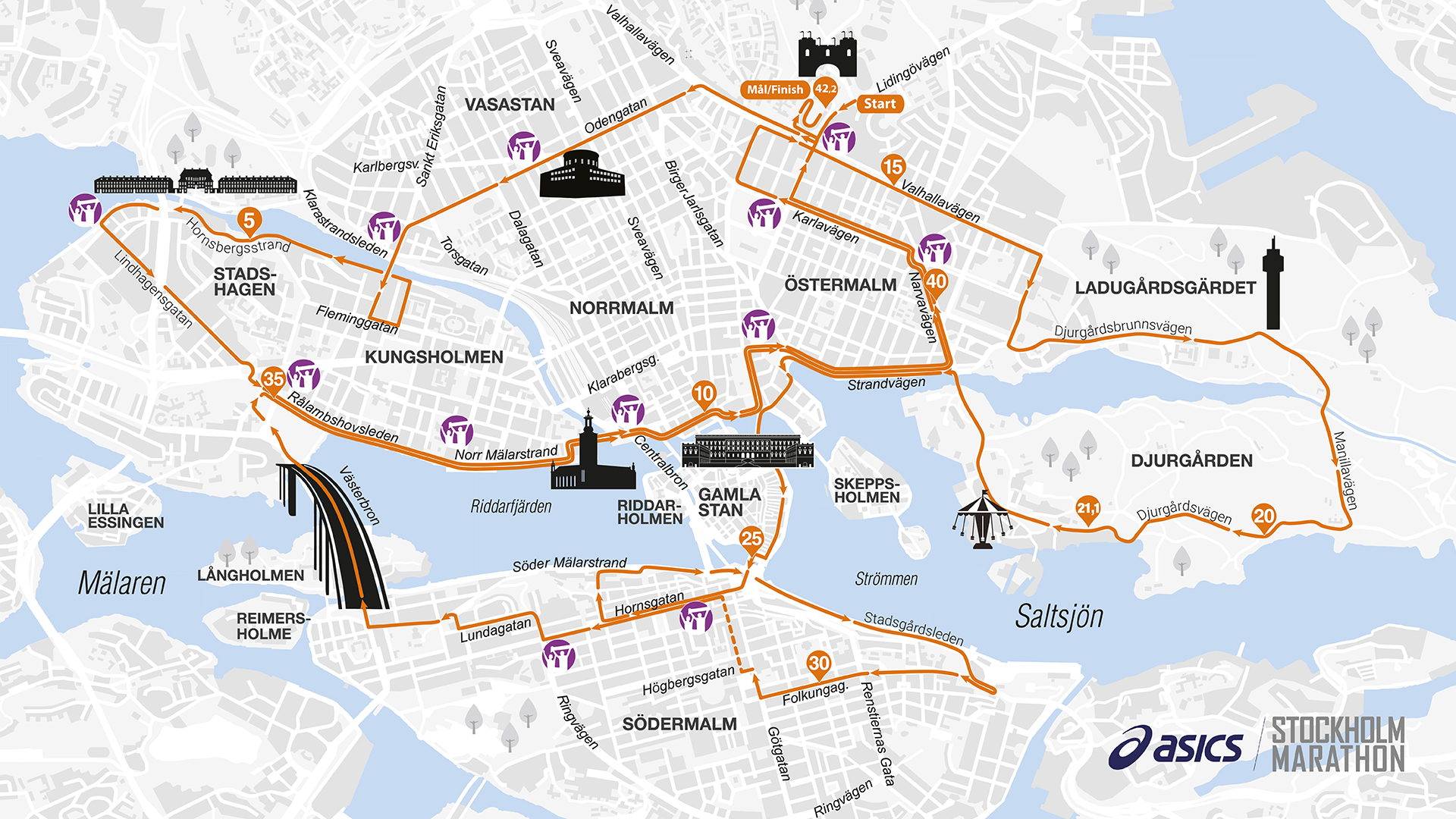 The course is 42,195 metres long, and has been measured in accordance with Swedish Athletics Federation and IAAF rules. The measurement was carried out on 25 April 2017 by Hugh Jones, AIMS course measurer from Great Britain and Mikael Hill from Stockholm. Each kilometre will be clearly indicated with a sign. For a more detailed description of the course click here.
CONTACT
If you have any questions before ASICS Stockholm Marathon, please contact us by phone: +46 8 545 664 40, or email: [email protected].