ASICS STOCKHOLM MARATHON
OCTOBER 9 2021
The ASICS Stockholm Marathon takes you through the streets of a beautiful European capital built on 14 islands. The course of this race offers spectacular views of a unique city with varied scenery, including nature and an impeccably preserved medieval city centre. The enthusiastic crowds will cheer you along the route and lead you to an unforgettable finish at the 1912 Olympic Stadium, the home of 83 officially recognized world records in athletics. No other arena in the world comes close to that number and hopefully you can have your own record finishing the ASICS Stockholm Marathon at this stadium.
HOW ASICS STOCKHOLM MARATHON WILL BE ORGANIZED
We are heading towards an autumn with live mass participation sports events. What we have longed and worked for finally seems to become a reality!
From July 1 it is allowed with mass participation sports events with 900 participants at the same time in the start and finish area (more participants will be able to be on the racecourse at the same time). The Swedish Government and the Swedish Public Health Agency have already clarified a plan for how continued lifting of restrictions will take place and the next step is that the number of participants will be uncapped. The authorities' assumption is that we will reach the next level, with the number of participants being uncapped, in September.
When the different steps of lifting the restrictions can be implemented is determined by parameters such as the spread of infection, the pressure on the healthcare system and vaccination rates. All figures are pointing in the right direction and we have good reason to believe that the lifting of restrictions will be followed through according to plan.
For races later this autumn, ie September and onwards, the main plan is to be able to arrange these events with an uncapped number of participants. Even in these cases, we do expect that we will need to make some adjustments to the events.
No later than September 21 we will announce how the event will be organized.
THE START
The race starts in two groups, at 11:00 and 11:10, from Lidingövägen, outside the Clock Tower of Stockholm Olympic Stadium.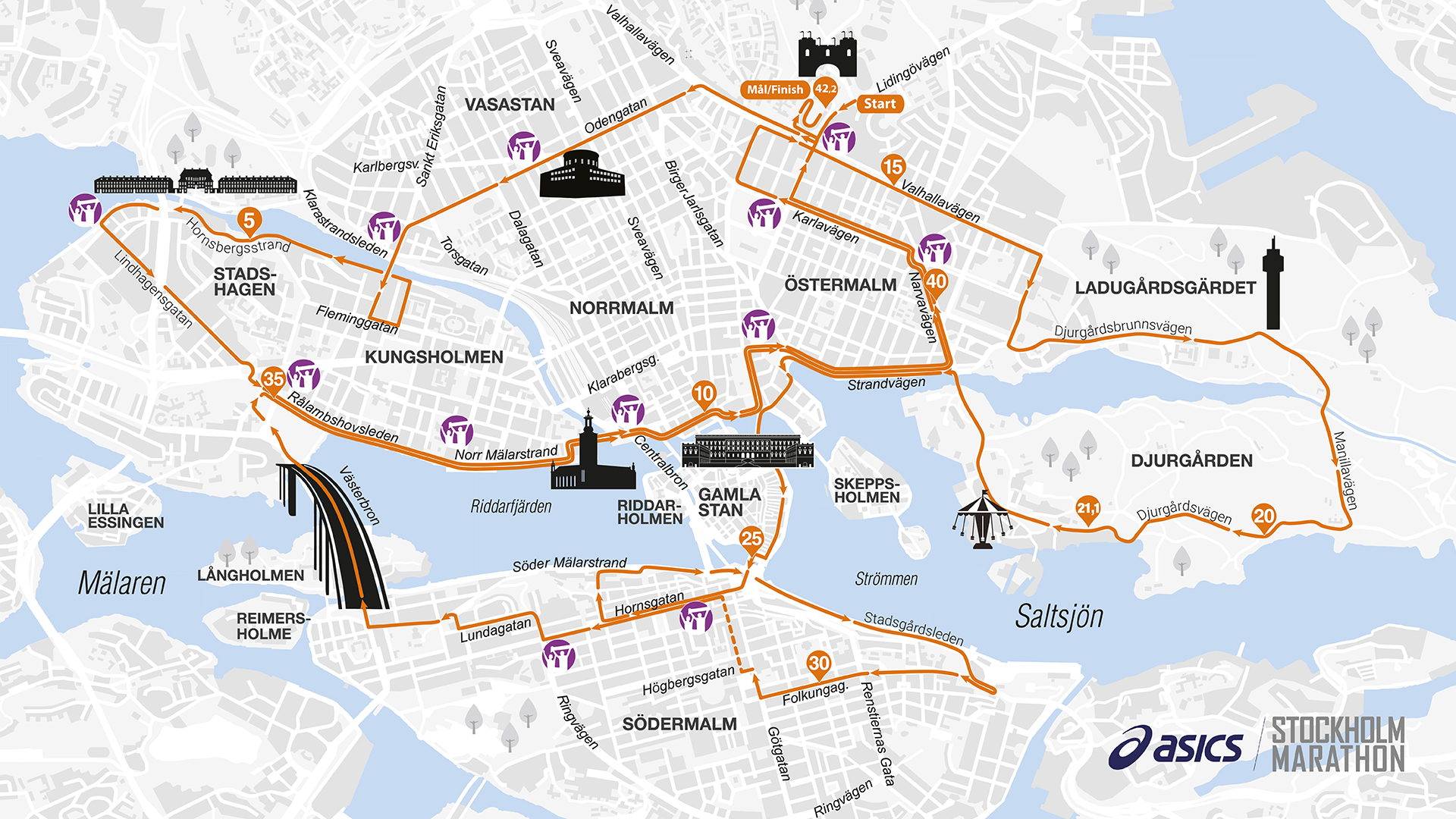 The course is 42,195 metres long, and has been measured in accordance with Swedish Athletics Federation and IAAF rules. The measurement was carried out on 25 April 2017 by Hugh Jones, AIMS course measurer from Great Britain and Mikael Hill from Stockholm. Each kilometre will be clearly indicated with a sign. For a more detailed description of the course click here.
CONTACT
If you have any questions before ASICS Stockholm Marathon, please contact us by phone: +46 8 545 664 40, or email: [email protected].